Leading Home Performance Contractor in Northern California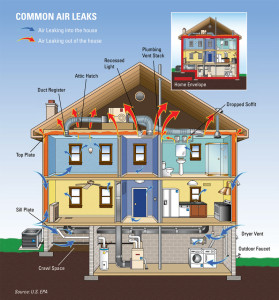 Since 2010, Ecoattics has become a leading radiant barrier and insulation contractor for Northern California homes. We provide homeowners with affordable home insulation solutions. Our solutions are guaranteed to cut costs and improve your comfort. One of these solutions is radiant barrier. While many homes already have insulation installed, radiant barrier provides industry-leading technology that will protect your house from extreme temperatures. In addition, we also offer insulation removal and air sealing to improve air quality and minimize air leakage in your home.  Statistics have proven that the solutions we offer can lower bills and increase the lifespan of your home's air conditioner and heater, saving you thousands of dollars! In addition to saving you money, Ecoattics Energy-Savings Solutions can also help improve the air quality and comfort of your home.
Save your Air Conditioner
An old air conditioning system will run non-stop and cost considerably more money to operate if your home and duct work isn't properly sealed and insulated. We have extended the life of thousands of air conditioning units by installing radiant barrier, removing old insulation, air sealing, and replacing or sealing duct work.
In Northern California, there are many homes with heating and air conditioning duct work in the attic. This is a concern because the attic temperature will get as high as 150 degrees if it is not properly ventilated. The high attic temperature will drastically affect the operating efficiency and cooling capacity of your A/C system. It will also reduce the life span of your air conditioner by 3-5 years. This is precisely why building codes are now changing and requiring energy efficient upgrade measures for existing homes. We want to ensure you are naturally comfortable by implementing passive energy saving measures. Our cost effective solutions will stop your air conditioner from running all day and night.
Ecoattics is striving everyday to provide you with the best return on investment and customer service you can find, guaranteed!